Celebrating our Founder Wendy Volhard: A Dog food Industry Icon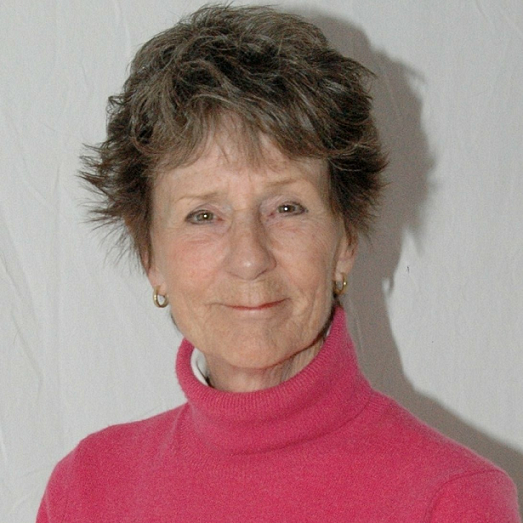 Wendy Volhard, the founder of Volhard Dog Nutrition is a consummate dog person, internationally recognized for her contributions to training, health, and nutrition. In print, in films, and in the field, She has helped thousands of people to better enjoy the experience of dog ownership and thousands of dogs to live better lives.

In addition to her outstanding contributions in the field of nutrition, for the past 50 years, Wendy has taught dog owners how to communicate effectively with their pets. At the heart of her teaching is the "Motivational Method," a unique approach to training that is aimed at people who have dogs first and foremost as pets and companions. Wendy believes that positive reinforcement is the most effective tool for teaching any dog – a technique that is fundamental to her renowned training camps, workshops, and one-on-one training sessions.
Wendy has written 13 books, over 200 Articles and produced four training videos plus a DVD, Living with your Dog: Basic Training 1 & 2. Volhard books have been translated into ten languages. Two of her books were awarded the prestigious "Best Care and Training Book" award by the Dog Writers' Association of America (DWAA). Her film "Puppy Aptitude Testing" was named Best Film on Dogs for 1981 by the DWAA - the Oscar of the dog world. Between her and her late husband Jack, they have seven awards from the DWAA. Wendy is an accomplished trainer and has obtained over 50 conformation and performance titles, multiple High in Trials and Dog World Awards of Canine Distinction with their German Shepherd, Labrador Retriever, Landseer Newfoundlands, Standard Wire-haired Dachshunds, and a Yorkshire Terrier. Six of her own Landseers have earned at least one Highest Scoring Dog in Trial in American Kennel Club obedience competitions. Read the story about one of them! She is a true practitioner in every sense of the word.

In addition, Wendy developed the most widely used method for evaluating puppies for the right home and the right purpose. Her film Puppy Aptitude Testing was named best film for 1981 by the Dog Writers Association. She also developed a Canine Personality Profile to help dog owners understand why their canine charges do what they do, and her article Drives - A New Look at an Old Concept was named Best Article in a Specialty Magazine for 1991. She was a regular contributor to the American Kennel Club Gazette for more than 10 years. In 2006, Wendy was inducted into the International Association of Canine Professionals Hall of Fame.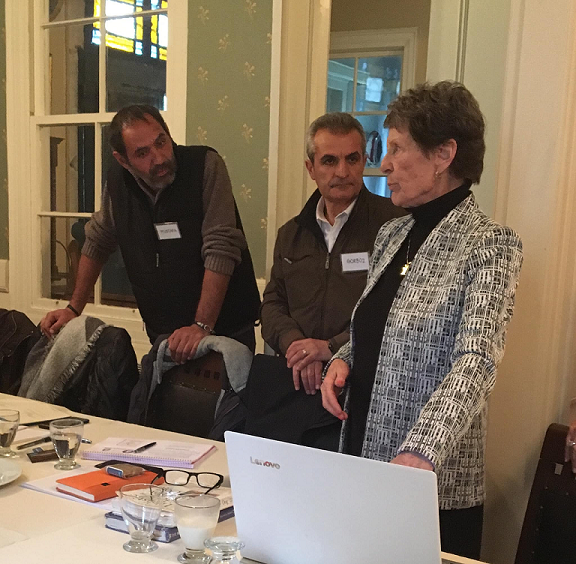 Wendy Volhard displaced the natural dog food industry with her leadership and vision for a healthy balanced natural diet. Wendy's talents are best summed up by James Dearinger, former Director of Obedience for the American Kennel Club, in his Foreword to the Canine Good Citizen: Every Dog Can Be One (Howell Book House, 1994, 2nd Edition 1997):

"Wendy has few equals when it comes to understanding canine behavior. She has a remarkable ability to sense the needs of a particular dog and what is best for the animal. A talent, for sure, but one she has honed to a fine point by studious research into all phases of dogs -- behavior, health, nutrition, structure, and training."

Wendy is internationally recognized as one of the leading authorities on health and nutrition for dogs and is the senior author of The Holistic Guide for a Healthy Dog (Howell Book House, 1996 & 2nd Edition 2000). In 1973, Wendy showed great leadership and vision when she formulated the Natural Diet for a Healthy Dog, a nutritionally complete diet to maintain peak health, long life, beauty, and performance; in 1999 she produced the diet in dehydrated form. More recently she has introduced the ultimate in dog diets, NDF2, which is available in the U.S.. In addition to offering an alternative healthy diet, she also developed a formula for Endurance a product that can be added to other potentially deficient pet diets to help make those diets more digestible and nutritious. Endurance is formulated to also be used for cats.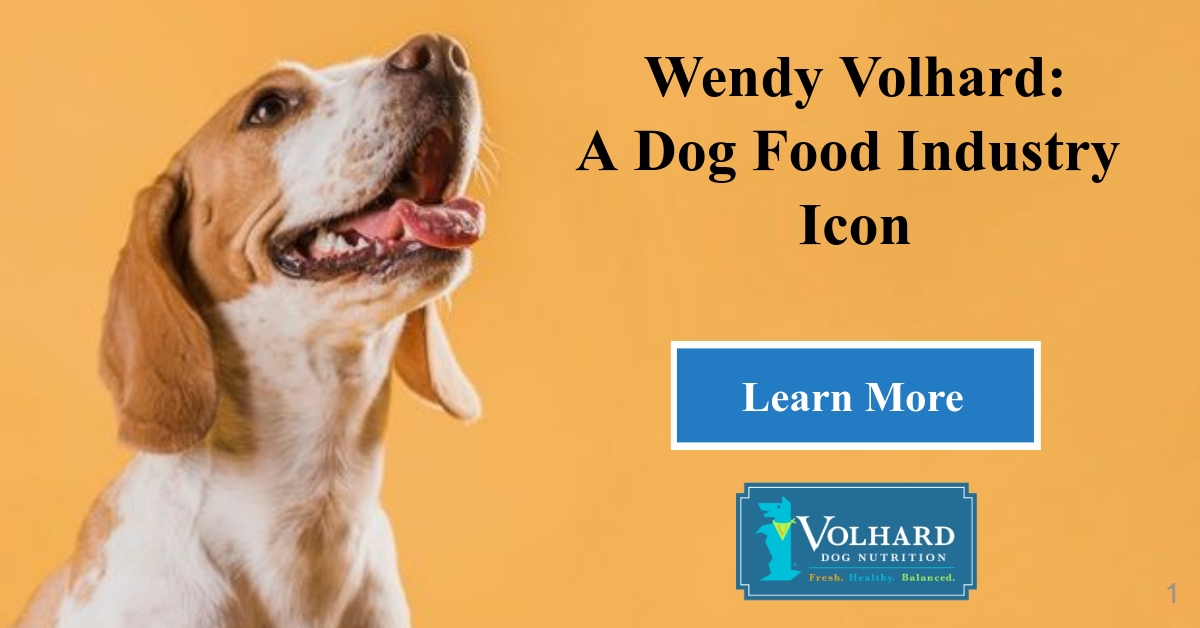 Little known fact is that Wendy was the first to create a balanced natural diet even though her male counterparts like to claim credit for work done by her decades earlier. In addition, Wendy at 70 years of age started the Volhard Dog Nutrition company, a woman-owned small business that allowed the public at large to have access to her unique, tested formula. She was always ahead of her time and never influenced by the latest fads or gimmicks.

Currently, Wendy conducts seminars on health and behavior in the US, Canada, and Europe. She lectures at annual conventions of the Association of Pet Dog Trainers (APDT), the International Association of Canine Professionals (IACP) Groom Expos and the United Kingdom Registry of Behaviour Consultants.

There is no greater example of someone who has dedicated their life to helping the pet industry grow and everyday Wendy continues to champion the industry through professional creativity, innovation, and leadership. We at Volhard Dog Nutrition have the greatest respect for Wendy Volhard and all that she has accomplished and will accomplish for the pet industry.

#BalanceforBetter