7 Healthy Treats Your Dog Can Enjoy on Valentine's Day
Everyone loves the excitement brought by Valentine's Day. Every year, we go overboard in our quest to find the perfect gift or to create the perfect flower bouquet for our loved ones. However, we often forget about one particular furry friend whose love and loyalty towards us are unconditional – our dogs!
This year, we believe it's time for you to show how grateful you are for your dog companion. "How is that possible?" you might ask. All dog owners know that flowers and chocolates are big no-nos for our dogs. For that reason, we have a proposition for you – put on your cooking apron, search the pantry for some accessible, ordinary ingredients, and surprise your dog by baking some special, tasty Valentine treats!
In this blog we have put together a comprehensive list of beginner-friendly, DIY Valentine's Day treats. They're all healthy, fun, and delicious, so give them a try!
Staying Away from Chocolate
Before diving into the list of delicious treats, we thought it wise to dedicate a few words to the subject of chocolate. No more than during other times of the year, we are tempted to shower our dogs with treats. However, the most common Valentine's Day treat is chocolate, which is toxic to dogs..
While humans enjoy it in numerous forms, chocolate is very toxic for dogs – even smaller amounts lead to food poisoning in dogs. Chocolate is poisonous to dogs mostly because of its theobromine content, which dogs are unable to metabolize effectively. If your dog eats chocolate, you should monitor them closely and seek veterinary attention if they show any symptoms, or if they are very young, pregnant or have other health concerns.
We cannot stress enough how dangerous chocolate can be for your pooch, which is why we recommend that you keep chocolate treats away from your puppy's reach. Leaving the subject of chocolate aside, let's talk about some tasty Valentine's Day treat recipes for your dog!
#1: Healthy Cranberry Valentine Treats
For starters, we have some easy cranberry-filled treats, which your dog will absolutely adore. Cranberries fall under the category of recommended berries for dogs, so transforming them into tasty treats is only natural.
Ingredients: 2 eggs, 1 ½ C almond flour, 1 Tbsp. coconut oil, 3-4 Tbsp. coconut flour, and ½ C dried cranberries.
How to prepare: Combine the flour, coconut oil, and cranberries in a bowl. Add the eggs and mix until the dough comes together. Add flour for consistency. After the dough is ready, use a cookie cutter to create cute shapes and place the dough into the oven (preheated to °325 F) for 15-18 minutes.
#2: Carrot Oat Applesauce Treats
The health benefits brought to dogs by the two main ingredients – oats and carrots – are well documented: oats are carbohydrates that contain a lot of vitamins and minerals, while carrots are rich in fiber and beta-carotene.
Ingredients: ½ C quick oats, ½ C unsweetened applesauce, ½ C (about 1 large) carrot, finely grated, and ½ C all-purpose flour.
How to prepare: Mix the ingredients in a bowl. By using a cookie cutter, place the mixture onto a parchment-lined baking tray and bake for approx. 20 minutes in a °350 F preheated oven.
#3: Pink Strawberry Frozen Yogurt Treats
If your dog is a big fan of chilly delights, then these strawberry frozen yogurt treats are the right way to go! Aside from being the perfect treat for a hot climate, strawberries and yogurt are very healthy and nutritious for your dog: strawberries are full of fiber and vitamin A, while yogurt balances the gut flora of your dog.
Ingredients: 2 C sliced strawberries, 1 ½ C banana, and 1 C whole milk yogurt (always be watchful for the fats).
How to prepare: Use a blender to purée the ingredients until creamy, then pour the mixture into ice cube trays and let them freeze for approx. 4 hours. The treats can be stored in the freezer and served at any time.
#4: CocoTherapy Pure Hearts™
In case you are looking for a nutritious alternative that does not require any effort, Volhard has for you theCocoTherapyPure Hearts™, a 100% organic treat with no GMO ingredients.
Made with only the purest ingredients, CocoTherapy Pure Hearts™ is the perfect vegan choice for your canine companion. With no grain, gluten, dairy, preservatives, or artificial flavors, these treats are more than welcome to dogs with allergies or sensitive tummies. The coconut fiber contained in these treats supports digestive health. Furthermore, these treats provide numerous advantages to your puppy's skin, coat, and oral health while supporting a healthy weight.
Available in two flavors (Coconut Banana Brulée andCoconut Pina Colada), your dog will absolutely adore these delicious, nutritious treats!
#5: Heart-Shaped Treats Peanut Butter
When consumed with moderation, peanut butter can be a superior source of protein, vitamins B and E, and healthy fats. Make sure that you choose healthy peanut butter options, such as unsalted peanut butter or homemade peanut butter, both with low sodium levels and no artificial sweeteners like xylitol.
Ingredients: 3 C whole-wheat flour, 1 C pure pumpkin puree, 3 Tbsp. all-natural peanut butter, and 2 eggs.
How to prepare: Throw the ingredients (aside from the flour) into a bowl and mix properly. Add mixture to flour and knead into dough. Roll out the dough using a roller until it has the thickness of ½ inches. Create funny shapes using a cookie cutter (P.S. you can add letters by using a letterpress). Bake for 30 minutes in a °350 F preheated oven. Make sure that you let them cool before serving.
#6: Meaty Cupcakes for Dogs
Leaving the province of sweet treats, we reach the land of meaty cupcakes. The combination of meat and vegetables provides a healthy, nutritious treat for your dogs, rich in protein and vitamins.
Ingredients: 2 lbs. beef or chicken mince, 6 oz. brown rice, 1 grated potato, 2 grated carrots, 1 chopped celery stick, 4 eggs, 2 Tbsp. coconut oil, and 6 oz. regular oats.
How to prepare: Mix the mince, veggies, and eggs in a large bowl. Add cooked rice, oats, and a bit of olive oil, the mix. Pour the mixture into muffin holes, and then cook for 45 minutes in a °350 F preheated oven. Allow the cupcakes to cool before serving.
#7: Pleasantly Plump Pumpkin Valentine's Day Dog Treat
With their composition rich in nutrients and fiber, pumpkin treats are not only delicious but also contribute to a healthy digestive system.
Ingredients: 2 C flour, 1 egg, ¾ C pumpkin, and 1/3 C peanut butter.
How to prepare: Mix the ingredients (except the flour) in a bowl, and then add the flour for consistency. The mixture will turn into dough. Roll the dough on a floured counter. Use a cookie cutter to shape the dough as you like. Bake for about 30 minutes in a °350 preheated oven. Allow to cool, and then serve.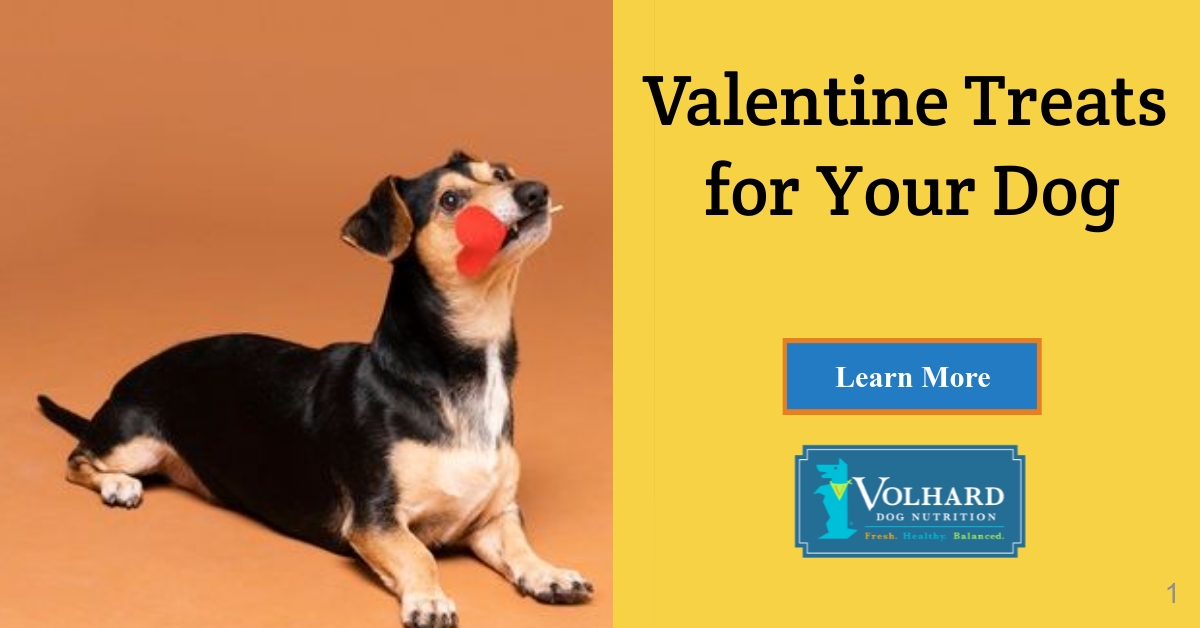 This year's Valentine's Day, it's time for you to show your dog how much you cherish its love and loyalty! Would you like to learn more about Valentine's Day treats? Feel free to contact us or check out our blog!
BIBLIOGRAPHY:
1)https://www.rover.com/blog/homemade-valentine-dog-treats/
2)https://3milliondogs.com/dogbook/top-5-valentines-day-treat-recipes-for-your-dog/
3)https://www.sheknows.com/living/articles/947199/homemade-heart-shaped-mini-dog-cakes/
4)https://grumbledog.com/blog/healthy-valentines-day-dog-treat-recipes/
5)https://zuki.co.za/blogs/zuki/how-to-spoil-your-dog-on-valentine-s-day-healthy-homemade-dog-treats
6)https://www.sugarthegoldenretriever.com/2016/02/14-diy-dog-treats-for-valentines-day/
7)https://www.dogisgood.com/healthy-valentines-treats-for-your-dog/
8)https://teamdoggy.com/puppy-love-valentines-day-dog-treat-recipes/
9)https://www.petpoisonhelpline.com/pet-safety-tips/is-caffeine-poisonous-to-dogs/
10) Volhard, Jack, and Volhard Wendy, Dog Training for Dummies, Indianapolis: Wiley Publishing, 2010.