Why Would You Want to Change Liver Flavors?
Our best seller has just gotten even better! Along with the original chicken liver flavor, our Natural Diet Foundation 2 (NDF2) will be available in two additional liver flavors - Pork and Beef! The new flavors will only be available in the 10 pound size.



For our Black Friday special, get 10% off when you preorder one or both of these new flavors! We will be taking preorders from Nov 20th - Nov 30th! For more information on the preorder, please visit our Facebook page on Nov 20th!


Why would you want to change liver flavors?
Besides providing a taste diversity, you can now provide your doga wider range of nourishment. Chicken, Pork, and Beef Liver all have varying nutrient profiles. Or maybe your dog has a sensitivity to chicken. You now have two other options to make adjustments to your dog's diet without having to switch their food completely!
The liver is a nutrient-rich organ that most dogs love eating.

This organ will provide your dog with: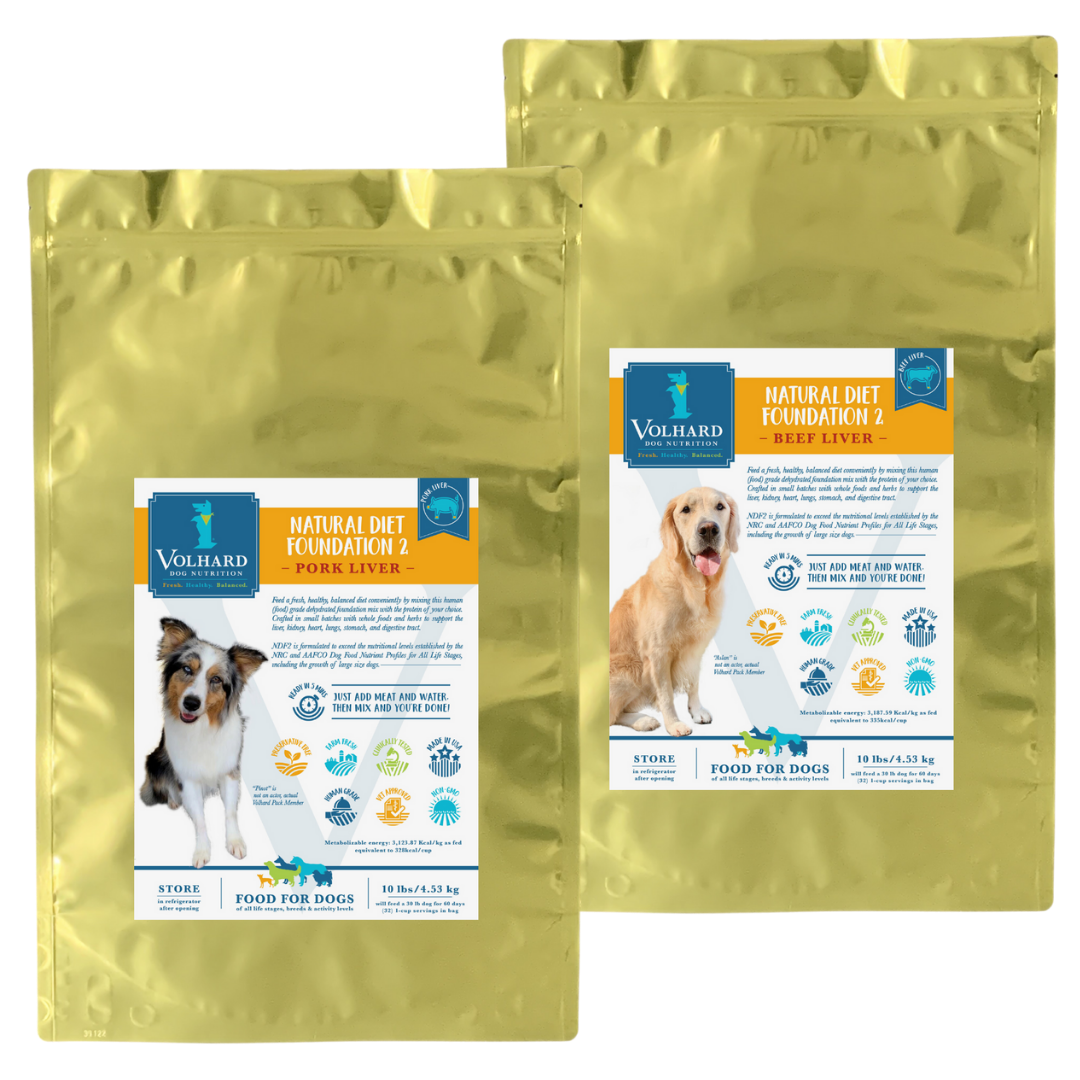 Proteins

Fat

Vitamin A

Iron

Copper

Niacin

Zinc

Phosphorus

Vitamin B

Omega-3

Omega-6


Apart from being very tasty, the added liver will provide them a lot of benefits and keep them in shape. Your dog's liver performs thousands of vital functions in the body. So it's important to support the liver itself.

You can boost liver health by feeding your dog liver.
In various types of natural medicine principles, including Traditional Chinese Veterinary Medicine, it is said that feeding a specific organ benefits that organ.

Beef liver is higher in several minerals than chicken liver.
Magnesium – for cellular, muscle and bone health

Phosphorus – works with calcium to build teeth and bones

Zinc – antioxidant, skin health, immune support

Copper – supports iron metabolism, red blood cells, hair color

Manganese – support several aspects of metabolism

Calcium – essential for bone and muscle health

Iron – transports oxygen in the blood, prevents anemia

But chicken livers have more…
Selenium – antioxidant, important for thyroid health, immunity

Niacin (vitamin B3) – cardiovascular, brain and skin health

Thiamin (vitamin B1) – creates energy in the cells

Retinol (a usable form of vitamin A) – antioxidant, eye and skin health

Beta carotene (a less usable kind of vitamin A) – antioxidant, brain and lung health

Vitamin C – supports joint health and wound healing

Vitamin D – bone health, skin health, disease prevention


There's a difference in the fats too. Chicken livers have about 30% more total fat than beef liver. And like chicken meat, generally chicken livers are higher in polyunsaturated fats than beef liver.
Pork liver has all of the above nutrients but also provides a more hypoallergenic liver choice for dogs who may be struggling with chicken or beef.

New to the Natural Diet Foundation 2 (NDF2)?
NDF2 is a dehydrated foundation mix developed by Wendy Volhard which allows you to add your own protein to provide your dog with a fresh, healthy and balanced diet. NDF2 is crafted in small batches with whole food ingredients and herbs to support the liver, kidney, heart, lungs, stomach and digestive tract.
The Natural Diet recipe has been clinically tested on different breeds, sizes, and ages of dogs (bloodwork and urine) for over 30 years and has improved the health, vitality, and longevity of dogs.
There is no other fresh diet on the market that has the longevity and generational results that Volhard diets do!
The Volhard Dog Nutrition Natural Diet Foundation 2 (NDF2) was formulated to exceed the nutritional levels established by the NRC and AAFCO Dog Food Nutrient Profiles for All Life Stages, including the growth of large size dogs.
This dehydrated diet is for the family that needs the convenience of easy feeding but wants to feed a fresh, healthy, balanced diet.