Posted by Volhard Dog Nutrition on Dec 29th 2022
5 Ways You Can Save Money with Volhard Dog Nutrition
We all want to find ways to save money. But…saving money is tough nowadays with prices increasing due to inflation, and historical highs of materials due to environmental and political pressures. Add in the increase in shipping costs, and well, that third dog you took in last year during COVID that you thought was a good idea. So here's what to do:
Read our list of 5 Money-Saving Strategies Below.
Even doing just one could help you save money when you purchase your food and supplements at Volhard:
Spend your money on great food, not veterinary bills

Continuing to feed Volhard Dog Nutrition - a properly balanced, fresh, species-appropriate diet - translates to less money spent at the vet's office.

According to the authors of Paleo Dog, "No matter what medicines, supplements, or treatments you give your dog, none of them is as important to overall health as diet. An animal cannot heal its body if its nutritional needs remain unfilled."

In other words, pay now or pay later. And paying now, in the form of feeding your dog an optimal diet, means your dog gets to enjoy a healthier, happier life, and you get to enjoy that too!

What does a healthier, happier life—and lower vet bills—look like?

Here's what to expect:
Weight normalization
A much lower incidence of obesity-related diseases like diabetes
Shinier, healthier skin and coat
Resolution of allergy-related symptoms
Cleaner teeth, healthier gums, fresher breath & less periodontal disease
Better performance
Sign up for Autoship and Save 5% on Every Order
Shipping isn't cheap. Carriers raise their shipping rates every year. Demand in the e-commerce sector leaves a shortage of everything from truck drivers to warehouse space. And Amazon only makes small business shipping more challenging by continuously raising the bar for faster free shipping.
Volhard Dog Nutrition offers a few options to help make ordering easier and more affordable for you. Autoship has been made super easy for you to get that discount every time you have an order fulfilled. Just place your order, adjust your shipping schedule and just like that the discount comes off. You can cancel anytime and you can change the frequency very easily.
Join the Volhard Bulk Purchasing Program
The bulk purchasing program is a great way to save money (about 20% off) on your Volhard purchases. You have no minimum frequencies to meet on your purchases, so you can choose to order once a year and stock up or purchase every few months. It's your call! Volhard Dog Nutrition also provides an additional 5% discount towards your shipping cost as a bulk customer.
To purchase in bulk, the first step is to call the main office and sign up for the program. You will receive your own access to the bulk pricing area on our store pages. When you go to make a purchase, you will have to buy the products in bulk: that may be (5) 5 lb. bags of food or a case (6) of a supplement.
If you plan it right, you will be purchasing more at a time but shipping less frequently. Here's an example: normally buy (1) 20 lb. bag of food? Consider buying (5) 5 lb. bags and get 25 lbs. for 20% off!
Share shipping costs with a neighbor and ship more in one order together
Have a neighbor that feeds Volhard too? This is your chance to put your orders together, have it shipped to one of your houses, and then split the shipping costs. You can even do a fun activity when you all get together to split up the order!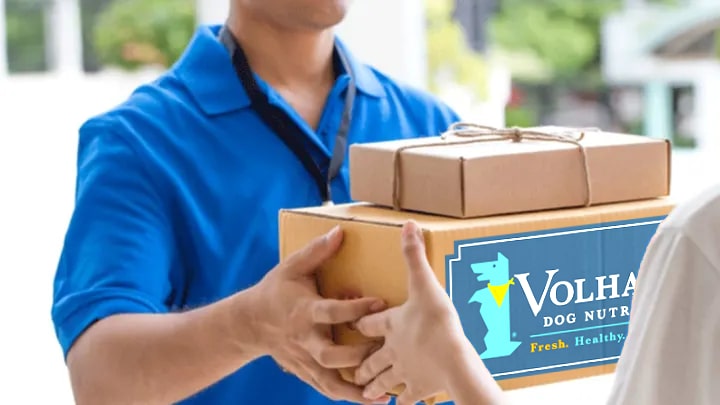 Work with Volhard as an Affiliate and get a personal discount and earn $
The Volhard Dog Nutrition Affiliate Program allows you to earn a commission selling Volhard products through your company or website. Ideal partners include bloggers, doggie daycares, dog walkers, trainers, breeders, veterinarians, rehabilitation centers, shelters, pet obesity clinics, pet retailers, and more.
Why join the Volhard Dog Nutrition Affiliate Program?
10% commission
60-day tracking cookie
Great Affiliate support, management, and education
A discount off personal purchases of any food and supplements (that qualify for a discount) based on your revenue generation.
Affiliate promotions
Quarterly webinars highlighting different discussion topics to aid in improving performance, education, and more.
Awesome communication and updates
Reliable tracking and custom Affiliate links
Affiliate Starter Kits available for purchase in 3 different sizes to get you ready for your affiliate journey!
The bottom line is the better we eat, the better we feel. That's as true for our dogs as it is for us. While there is a cost to eating well, it's important to remember there's also a cost to not eating well. We all have more control over the health of our pets, and our budgets, than we realize