Our Beginnings
The Story of Volhard Dog Nutrition
I gave up my career at the Wall Street Journal in the 1970's and literally went to the dogs. My beloved Landseer Newfoundland, Heidi, at the age of five, was diagnosed with severe liver and kidney disease and given a mere six months to live. Naturally, I was devastated.
Some time earlier I had come across a book written by the famous herbalist Juliette de Bairacli Levy, called "The Complete Herbal Book for the Dog". According to Levy, feeding a dog an improper diet could cause untold damage. To get a dog well again, Levy advocated a 2-week fast, followed by her diet. "What," I thought, "did I have to lose?"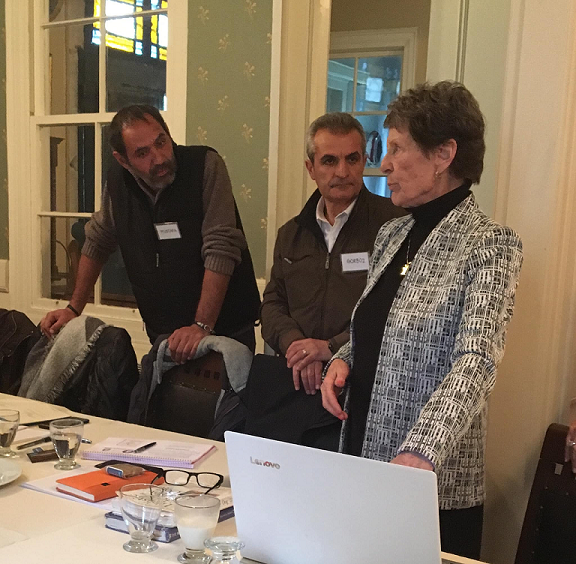 I put Heidi on a fast with water and herbal teas, which flushed out her system. Every day she didn't eat her regular kibble diet, she got better.  Following Levy's diet, I slowly introduced oats, buckwheat, honey, fresh meat, vegetables and herbs. Heidi never looked back and went on to live to the ripe old age of 12 ½.
When fellow dog lovers saw what I was doing, they wanted to do the same thing for their dogs.  I would hold "cooking classes" to teach them how to do it and show them where to buy ingredients.

With the help of my veterinarian, I began a protocol of periodic blood tests to see if the diet was balanced for the dogs. For over twelve years, I took blood from as many dogs as I could, from different areas of the country, different breeds, and different ages. I had to tweak the formula to make sure the recipe was balanced. Satisfied, I finally published the recipe in 1984 under the title "Back to Basics."
During these years I became a breeder of Landseer Newfoundlands and by feeding my diet was able to eliminate from my breeding program hip and elbow dysplasia. My Newfs lived up to 14 years, while the national average was 7 years.  I participated in performance events, working and showing my dogs until they were at least 10, and only then were they retired under protest.  They wanted to keep working!
I also had other dogs, all of whom lived to ripe old ages – a rescue Springer Spaniel, a rescue German Shepherd, a Yorkshire Terrier, a Briard, Labrador Retrievers and Standard Wirehaired Dachshunds. All were trained and were shown in performance events. I was able to observe their dietary needs under stressful and high-energy output conditions over the course of many years. More importantly, I was helping many dogs become well again. I began to lecture and give seminars throughout North America and Europe on the subjects of canine health and nutrition.
In the early 1990's my work came to the attention of Howell Book House, a division of Wiley Publishing, and I was asked to write a book. I accepted the invitation and, together with Kerry Brown, DVM, wrote "The Holistic Guide for a Healthy Dog," published in 1995. The book was such a success that I was asked to write a second edition, which was published in 2000 under the same title.
In 1999, I formulated a dehydrated formula of my recipe. I teamed up with a dog food company to market my Natural Diet Foundation AM and Natural Diet Foundation PM. The product promotes good digestion, not only in healthy dogs, but also in dogs with delicate digestive systems, or chronically ill dogs.  Most recently I developed NDF2, an all in one dehydrated food that offers owners an even simpler way to feed their dogs.
My dream has always been to be independent. So, here I am, at long last doing what I always wanted to do. I am proud to announce the launch of my own company, Volhard Dog Nutrition with the hope that I can help more dogs live long and healthy lives.
Often copied, but never successfully, my natural dog foods are without doubt the most clinically tested dog foods on the market. They began the natural, raw food wave that is now sweeping the country. No company can match VDN foods tested over that many generations of dogs.
I believe the foundation for a healthy and happy dog rests on sound, complete nutrition. If you believe the same, try a Volhard Dog Nutrition product - you will notice the difference. I bet my own dogs' lives on it every day.
Pavi sets a new record for Newfoundlands!
Sat. Sep 15, 2007, Pavi set a new title record for Newfoundlands. He did this at the tender age of 11 years, 2 months, and 4 days. And that's actual years, not dog years! I'm certain he is the oldest Newfoundland to earn an AKC agility title!
He earned his 20th title by smoking the Novice Agility FAST course and earning 2nd place as well. Pavi is a 9th-generation Wendy Volhard Natural Diet Dog. There is no doubt his diet, and that of his ancestors played a factor in his being in such good shape. That makes his official name: U-CD Ebb Tide's Encore Pavarotti CD, RAE, NAJ, NAP, NJP, NFP, CL3-R, CL2-F, CL2-S, CL2-H, Can AGNJS Joan, and of course, Pavi Ebb Tide Newfoundlands, Rochester, NY.
Just as an aside, according to veterinary studies, large dogs are considered senior dogs at six to eight years of age. My oldest Newfoundland lived to be 14. To quote Wendy, "It all starts with nutrition."