Posted by Volhard Dog Nutrition on Feb 10th 2023
Quality and Safety a Priority at Volhard Dog Nutrition
Dog food recalls are very scary because tainted dog food can put your dog's health at risk. We all followed the Science Diet vitamin D crisis and are cringing today as we hear about the recall from Purina regarding a similar issue. With today's latest announcement from Purina, you might be thinking - Should I be worried about Volhard? The answer is no- and we will share with you why not.
First, let's get you caught up on the latest recalls. Nestlé Purina PetCare Company is voluntarily recalling select lots of Purina Pro Plan Veterinary Diets EL Elemental (PPVD EL) prescription dry dog food due to potentially elevated levels of vitamin D. Vitamin D is an essential nutrient for dogs; however, ingestion of elevated levels can lead to health issues depending on the level of vitamin D and the length of exposure. Vitamin D toxicity may include vomiting, loss of appetite, increased thirst, increased urination, and excessive drooling to renal (kidney) dysfunction.
Purina is taking this action after receiving two contacts about two separate confirmed cases of a dog exhibiting signs of vitamin D toxicity after consuming the diet to date. Once taken off the diet, each of these dogs recovered.
The affected dry dog food was distributed throughout the United States by prescription only through veterinary clinics, Purina Vet Direct, Purina for Professionals, and other select retailers with the ability to validate a prescription.
Why this will not happen at Volhard Dog Nutrition's Manufacturing Facility
One big difference between Volhard foods and the facilities producing prescription feeds is that the prescription feed products are mass-produced. Volhard foods are not produced in this way. Let's look at a few major differences in production that will put you at ease about Volhard.
Mass Produced Dog Feed Manufacturing Versus Volhard Small Batch Food Manufacturing
Mass-Produced Dog Feed: These feeds are produced using a production line approach that is rarely cleaned out. So if the current running product isn't sufficiently flushed from the line after each run, there is residue from that run that remains in the line during changeovers. Additionally, these companies make huge batches of feed at one time, and any ingredient mistake is masked by the size and the fact that the machines are doing all the work.To keep production moving, the production line runs a continuous intake from large ingredient bins that automatically dump material into the machine and then come out bagged at the end. Because of this setup, the workers cannot really know for sure what product is coming out because kibble looks the same, and the high processing deadens the smell.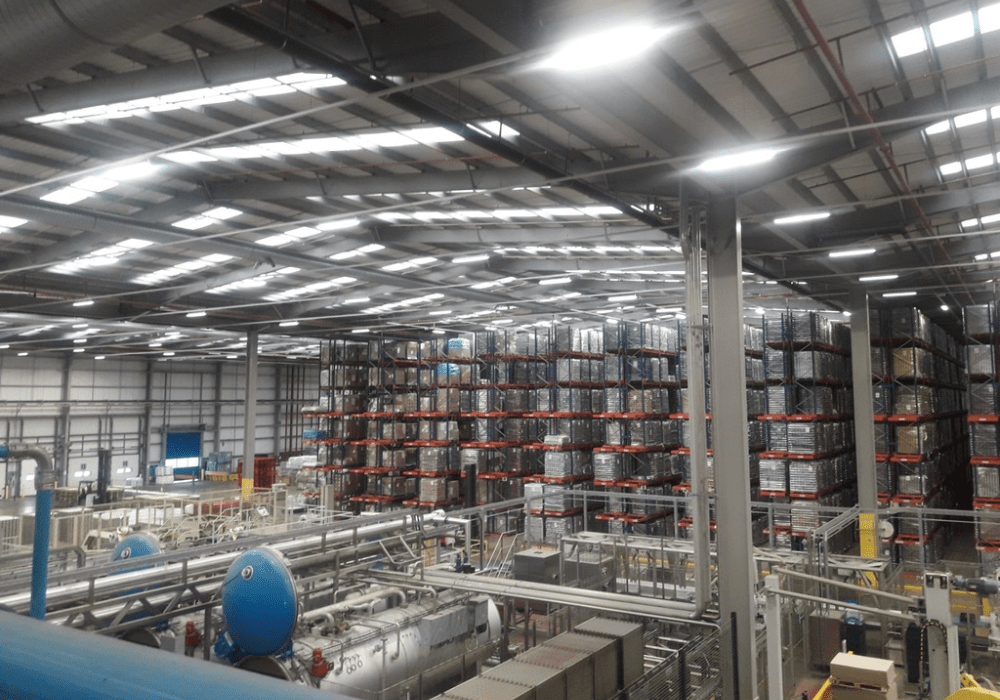 Photo: Example of a large pet food manufacturing facility.
Photo: Image of a Purina Manufacturing Facility.
Volhard Small Batch Food: Volhard makes only small batches under the control of highly trained people (not machines) who have eyes on the product the whole time. The big guys will make 40,000 lbs batches at one time. The Volhard manufacturing facility makes only 1,000 lbs at a time at a controlled pace where we measure out individual vitamins in a completely separate area and verify their identity and amount before adding them to the food. We never use a premixed product containing vitamins and minerals.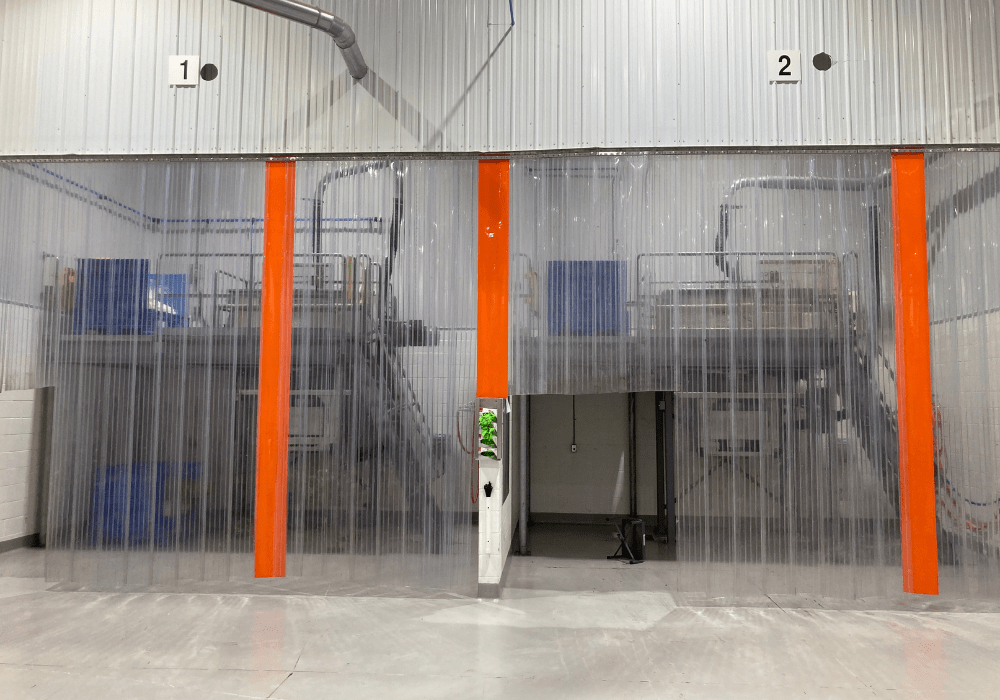 Photo of Volhard Manufacturing Facility

Mass Produced Dog Feed: The big guys have auto feeders which may or may not weigh out ingredients correctly. Too much vitamin D could be an auto feeder door not closing fast enough or a scale not being calibrated. They also sometimes use premixed vitamins and minerals and have no idea if those are mixed incorrectly to begin with.

Volhard Small Batch Food: All ingredients are added by a person who expertly weighs the individual ingredient and who records the lot code of that ingredient at the time they add it. Our scales are regularly calibrated by an independent 3rd party. A QC check will also occur by a different person to verify that the lots used are, in fact valid lots of the correct ingredient and in inventory at the correct time.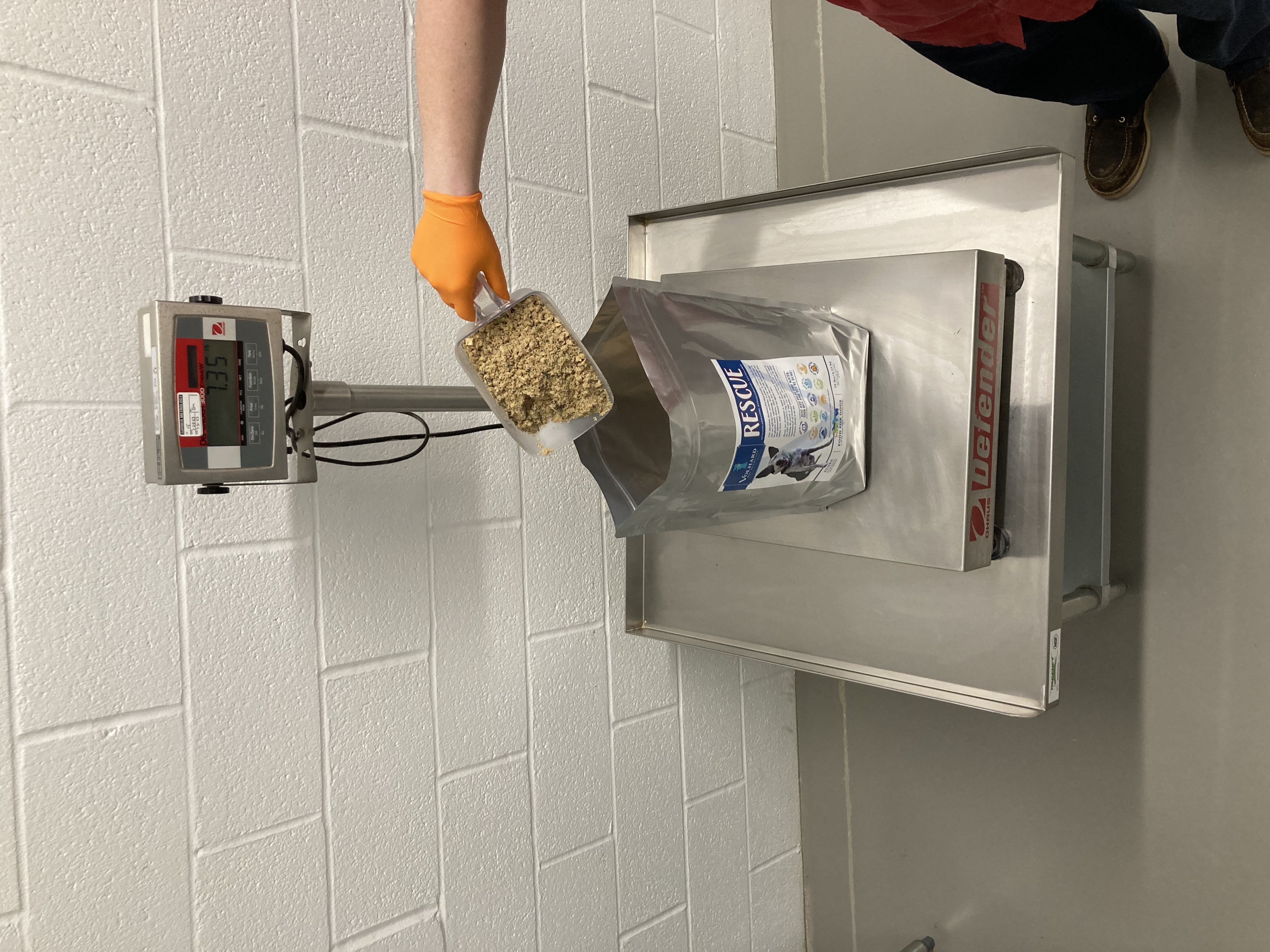 Photo of Volhard product being weighed by hand.
Equipment is shut down and cleaned after every production run. A QC person will inspect the equipment after cleaning to validate that equipment is clean before the next run, even swabbing equipment to test for the presence of organic material.
We record product made and product bagged to ensure it aligns. Because our products are minimally processed, and made in small batches, we used highly trained people along the way, watching the product. They can see and smell if something is off.Our plant and processes are audited several times a year by third parties for food safety and quality to achieve SQF certification, USDA APHIS EU certification, and USDA APHIS Canada certification. Along with FSMA, These certs require lot code traceability from and back, meaning we must track not only where lots of material went but how much of each lot came in and how much of it went out and into what product and to which customers.
Volhard Dog Nutrition would like to thank you for your trust in our food. We thought it important to transparently share these manufacturing processes with you, so that you feel confident that we are paying close attention to our products' quality and safety. As we celebrate 50 years of manufacturing safe food for your dog, we invite those who are feeding these other brands to reflect upon using Volhard as a safe choice. We are a small family-owned company that is focused on ethics, safety, and transparency and not outgrowing our ability to maintain a quality and safe product.