Breeder Spotlight: Jane Kelso, 25 Years Feeding Volhard's Natural Diet
Unlike other brands of dog foods and fads in feeding, Volhard Dog Nutrition has been supporting the health of dogs for decades. The brand has never wavered in its product quality and the recipes have stayed the same and are based on sound clinical testing. Volhard has been the best kept secret for over 30 years with a stellar record of zero recalls. This month's Volhard Breeder Spotlight will focus on long time customer and Ambassador of the Volhard Brand: Jane Kelso.
Who is Jane Kelso?
Jane Kelso is a long time breeder of Labrador Retrievers that come from generations of field trial females who are owned by Jane and selected for their excellent temperaments, looks and structural soundness. She carefully chooses sires for their bloodlines and abilities and believes that working dogs produce healthy, intelligent, and tractable puppies. Her beautiful home sits on a small farm in Boston, Virginia and she is surrounded by nature on all sides. There is no better place to be a dog! Jane's dogs represent more than 9 generations of dogs on the Volhard diet.
In addition to her breeding business, Jane started Mountain Run Kennel in Culpeper, VA in 1980 as a facility for training field trial dogs. Since then, Mountain Run Kennel has become a top boarding kennel, catering in large part to clients in the Washington, DC area.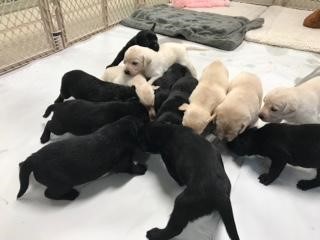 Volhard makes Jane's puppies different?
We, humans, thrive when we have sufficient energy during the day. We tend to become more active, productive and tire less easily when we are stocked full of minimally processed macro-nutrients. The same also holds true for dogs. Their overall health and growth is directly impacted by their diet which is why Jane believes we should be feeding our dogs Volhard Natural diets. Jane has made nutrition a priority for the last 30 years by feeding a raw natural diet (Volhard's Original Natural Diet -AM/PM) to all of her females and then to all of the puppies when they are ready to eat solid food. Jane chose Volhard diets because she is sure she is providing only the best to her new puppies-a fresh, healthy, balanced diet.
Lola, a two and a half year old yellow lab, owned by Jane, gave birth to her first litter August 2018. She whelped 13 beautiful puppies 8 black and 5 yellow within 4 hours of going into labor. The litter was consistent in size, with each puppy weighing just over a pound. The puppies showed incredible health with very shiny coats. Lola, was a great mom who did an amazing job feeding and caring for this large litter. During the gestation period, Jane provides a calm and loving environment on her farm. An excellent diet, plenty of exercise and personal attention is given. All Jane's dogs live with her in her house and all of her puppies are raised there also.
Jane began breeding dogs in her twenties, mostly sporting breeds, as her Dad and her three brothers were bird/duck hunters. Jane became a professional retriever trainer of field trial and gun dogs. Her goal which was achieved, was to make two dual champions, one a Labrador and the other a Chesapeake Bay Retriever.
As a breeder, Jane's goal is to breed puppies that are healthy, have great temperaments and make outstanding family pets. Volhard Dog Nutrition has always been the key to that and she would never feed anything else.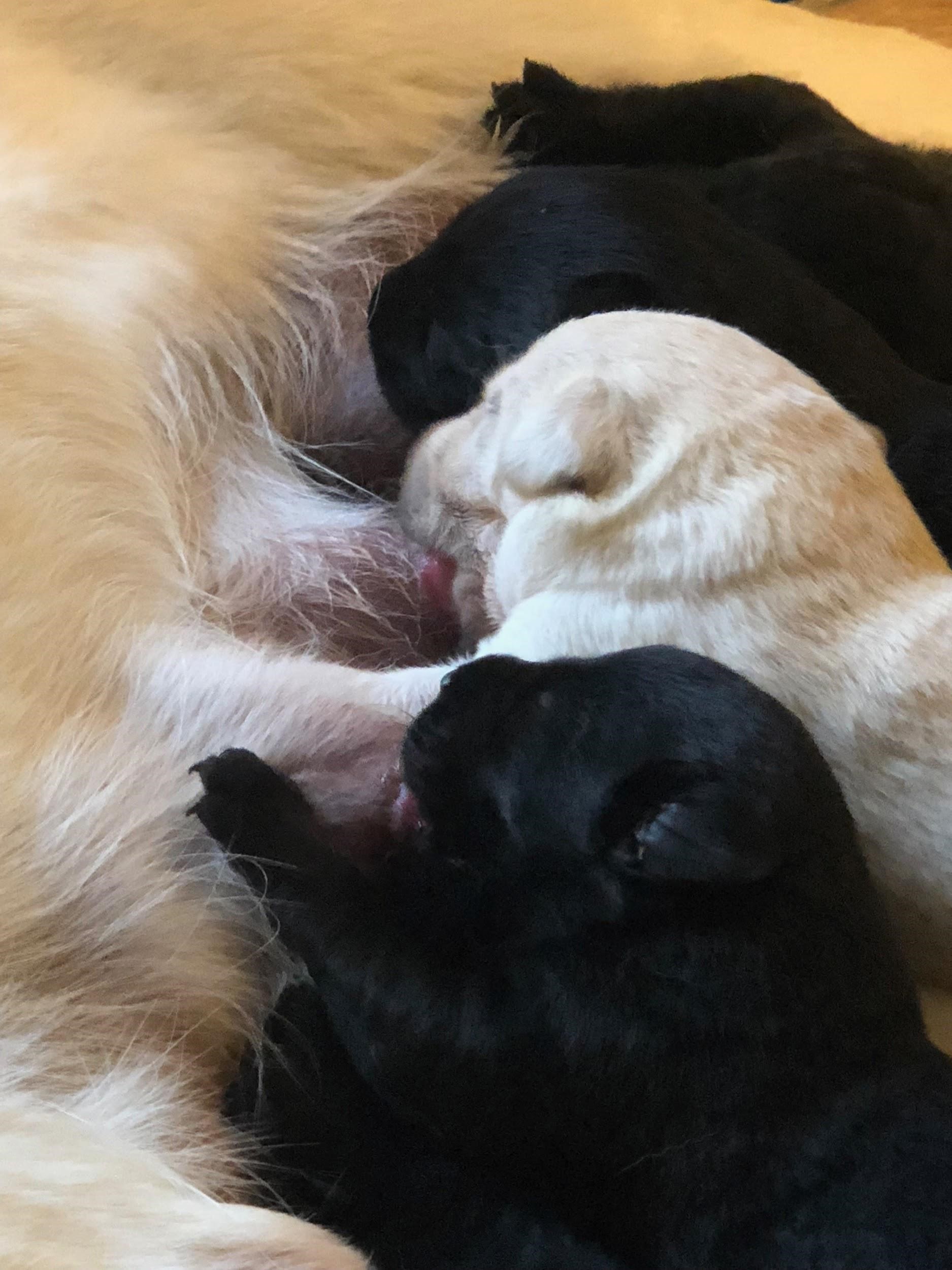 Why is nutrition important for a breeding female?
The proper balance of nutrients is essential when feeding. Animals (and humans) need a certain combination of protein, carbohydrates, fats, vitamins, minerals and water every day in order to function normally. Balanced nutrition is no accident – Volhard Dog Nutrition works hard to determine the best recipe and ingredients that go into VDN products so that they provide everything your dog needs on a daily basis. Making Nutrition a priority does not stop once a female is pregnant. She should be fed a high-quality, well-balanced performance diet throughout gestation.
By Jane choosing Volhard's AM/PM diet to feed her adult female dogs, she has chosen a highly digestible, very palatable, natural, balanced diet that also has the convenience over homemade preparations. The AM/PM diet has high quality, purposefully chosen ingredients which are 100% human grade, carbohydrates and a fiber content that are important to ensure adequate energy intake and to avoid hypoglycemia (low blood sugar) in late pregnancy. Carbohydrates, along with fats and protein, are all important macronutrients. These provide the female with energy and also keeps their heart healthy. High quality, easily digestible carbs are a source of energy that is immediately available for fueling any type of physical effort from sprinting to swimming. The AM/PM diet provides adequate intake of calcium (between 1 and 1.8 percent) and phosphorous (between .8 and 1.6 percent) which is important for adequate milk production by the female so that the pups' bones form properly.
/natural-diet-foundation/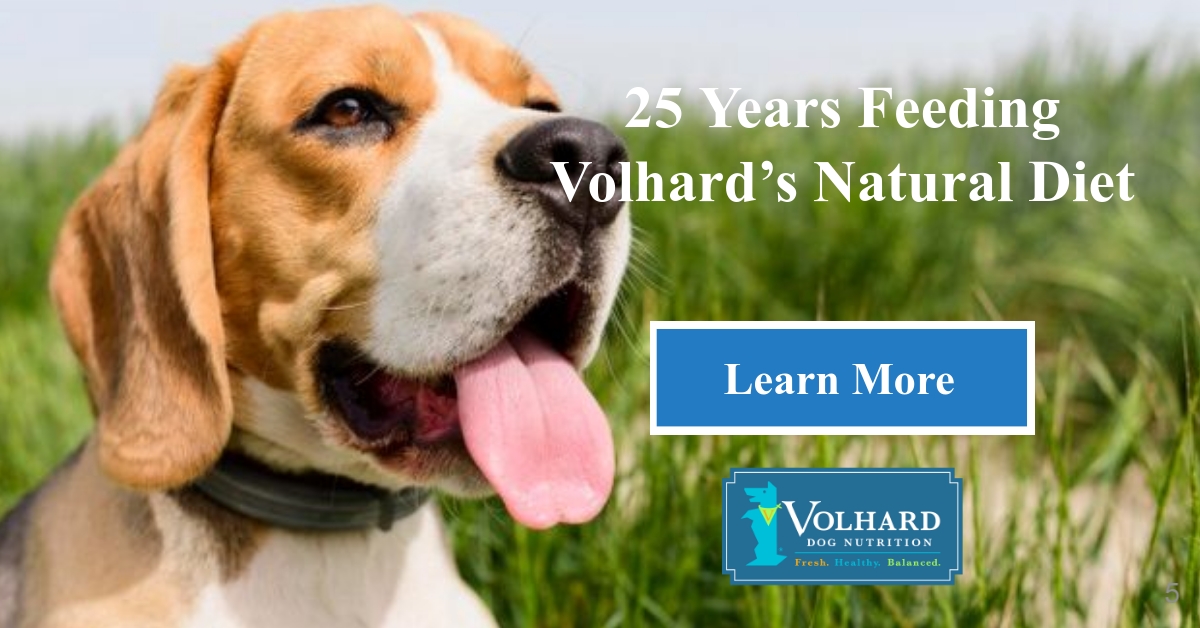 According to Jane, a dam who is pregnant or has just given birth draws upon the nutritional reserves deposited in her body before and during pregnancy. A malnourished female will not have sufficient protein, vitamins, minerals and energy to support pregnancy. Malnourishment of a breeding female can occur as the result of feeding poor-quality diets, imbalanced diets or insufficient amounts of good-quality diets.
Commercial diets are not 100% digestible and mostly provide only a dog's daily minimal requirement for life versus what is needed to thrive not just survive. When a female becomes pregnant, malnourishment can happen at any stage of her reproductive cycle. The greatest danger can occur during late pregnancy, when nutritional needs greatly increase. The malnourishment of the female is not always evident until it is too late. The dam may appear thin and out of condition once whelped, with inadequate muscle and body-fat reserves to support lactation. The pups may suffer from "fading puppy syndrome," appearing weak, crying frequently, eating poorly and lacking coordination.
According to veterinary nutritionists, malnourishment of females before breeding and during pregnancy is a major factor in neonatal puppy mortality. Puppy mortality is estimated to be between 20 and 30 percent, according to the AKC. We have to remember that just like growth, work, sport and play, reproduction is a physiologic state with nutritional requirements that exceed those of a maintenance phase.
Improper feeding of a dam can also result in impaired health of both the mom and her offspring, causing low conception rates and birth defects, problems carrying the entire litter to term, dystocia (labor difficulties), as well as improper mammary development, which reduces the quality and amount of the milk and colostrum produced. Overweight dams, as well as those who are underweight, may also have many of these problems.
Nutritional deprivation during pregnancy has been shown to affect the immune systems of both the mom and her pups. This is very important information to research when you are selecting a puppy from a breeder. In Jane's case she provides a 5 lb bag of NDF2 to every new owner and works with the owners to maintain feeding the puppies NDF2 after they go to their new homes.
Why isn't a bag of kibble just as good?
The reason is that the immune system is very sensitive to nutritional inadequacies during its formation and development. It can also affect the immune system's ability to function during future pregnancies as well, even if proper nutrition is restored. According to Wendy Volhard, in the Holistic Guide for a Healthy Dog, the first 7 months of your dog's life, the birth weight will increase anywhere from 15-40 times, depending on his breed. By year 1 the birth weight will increase 60 times and their skeletal development will be almost complete. For all of this to be successful, the dog needs to be eating the right food that starts as healthy milk from the mom and finishes with a natural diet for the puppy.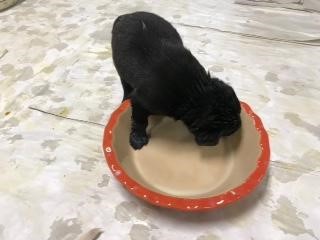 Why Volhard?
Jane believes in a preventative and holistic approach for the health of her animals and only natural foods and supplements are given. She takes great care in providing a natural and nutritionally rich diet for her females and puppies. Jane feeds and has been feeding the Volhard Natural Diet for over 30 years and insists she would feed nothing else.
To find out more about Jane's puppies go to her website: www.JaneKelso.com