Celebrate July 4th with our Independence Day Sale!
Celebrate Our Dogs with an Independence Day Sale!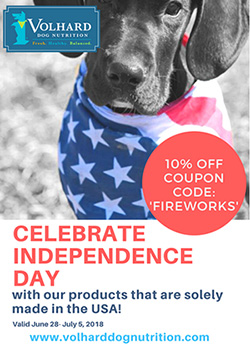 Volhard Dog Nutrition is offering an Independence Day Pop Up sale the week of June 28- July 5, 2018. During this week you can receive 10% off all products by putting the coupon code "fireworks"in the coupon code area at checkout. If you were thinking about starting your dog on a Volhard Diet or just stocking up on product during this sale, this is the week to do it! All Volhard Dog Nutrition diets are fresh, healthy, balanced and of course, made in the USA!
Independence day is right around the corner and it is common knowledge that more pets are lost on the July 4th holiday because they break out of the yard and try and flee from the sound of fireworks. Nutrition can play a role in helping your dog cope with the stress of fireworks. Some dogs may benefit from the use of nutritional supplements such as Volhard's Vitamin B Complex which helps with anxiety or from changing their protein in their food to something which has Anxitane (L-theonine) and 5-HTP tryptophan amino acids that may be helpful in decreasing a dog's anxiety, fear and reactivity.
Here at Volhard, we are going to help you celebrate the 4th of July and your dogs by planning ahead for the event! There are some very easy things that everyone can do to ensure the safety of their pets this holiday. It is very hard to desensitize a dog that is afraid of fireworks. The best plan is to accommodate them in a safe way. Fireworks are never just one night. We all know that neighbors buy fireworks and start shooting them off way before the 4th and continue through the following weekend.
What can you do to help your dog cope?
Make a plan to exercise them during the day.
Get out on a beautiful summer day with your dog in the daylight hours working on some exercise. Hike, swim, walk or train - as long as your dog is fit enough and you bring water and a way to cool them, spend the day taking on some physical challenge keeping them up exercising and stimulated all day. This ensures that your dog will be almost too tired to care when the festivities begin.
Take a potty break right before dark.
Restrict your dog's water in the early evening and perhaps feed early and potty them right before it gets dark so that they don't have to go outside when the noises begin.
Leave your dog home.
It is not exciting for a dog to watch fireworks. Most dogs don't understand it and the visual stimulation, along with the smell of things burning can even turn a dog that didn't mind the sound into a scared and phobic dog. If your dog is afraid even in the slightest way, taking them will not help them "get over it". It is easier to just not bring them. It isn't worth the risk of losing them.
Making your home safe.
Allow your dog to come inside the house, close the windows, and crank up the air conditioning or fan to create white noise (this should feel good because they are hot and tired after their day out with you). Fireworks can be easier to drown out with noise that thunderstorms (because of the drop in barometric pressure that comes with storms). Turn on fans! Turn on LOUD music. Turn up the TV. Static noise that is loud enough will help your dog relax and will lessen the chances of them hearing the cracks and booms. If your dog has noise sensitivity don't put them through the pain of shooting off fireworks at your home or in your backyard. Go somewhere else to set them off or travel to a friends to watch their fireworks. It isn't fair to bring the fear to their own backyard and so close to their house.
Leave the Lights On.
To avoid your dog seeing the visual elements of fireworks, you can leave the lights on all over the house so that they don't see the flickers of light from outside. As silly as it sounds these flickers can mimic thunderstorms and are also something that is overwhelming our dogs just don't understand. Think of it from your dog's point of view… when the sky lights up at night it is either a storm or fire (both are something to avoid for even an outdoor animal).
Utilize a Crate.
If your dog has a flight response to fireworks, you should crate your dog where they can't hurt themselves or run away. There are many stories about dogs hurling themselves out of windows or running away from the house into roads at night to get away from the noise of fireworks.
We at Volhard Dog Nutrition want your dog to thrive not just survive. Fresh, Healthy and Balanced nutrition gives your dog the best chance to have a long, healthy life. We hope that sharing these easy steps you will help you both have an calmer and safer Independence Day!